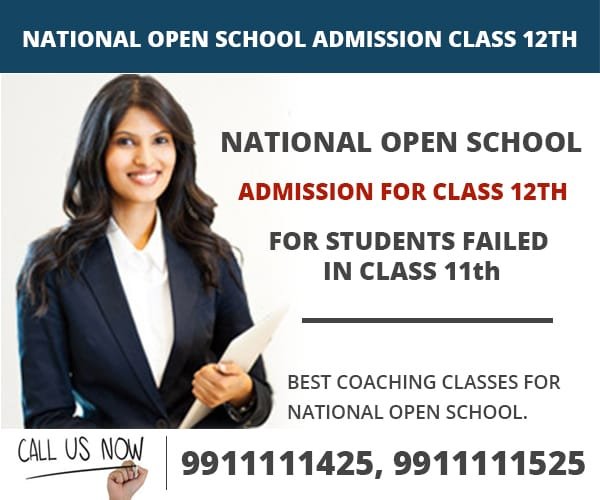 NIOS ADMISSION CLASS 12TH - WE MAKE YOUR FUTURE BRIGHT WITH DESIRED EDUCATION AS YOU WISH!
NIOS ADMISSION CLASS 12TH
NIOS ADMISSION CLASS 12TH - STREAM - 1
NIOS ADMISSION CLASS 12th – Welcome To Kapoor Study Circle's Helpline For NIOS  ADMISSION FOR 12TH class
If You Are A Student (Male Or Female) Aged Above 15 Years, And Belong To Any Of The Following Categories –
a) Passed In 10th Standard Public Exam
b) Failed In Class 11th From A Regular Private Or Public School.
c) Failed In 12th Standard From Any Board School
YOU ARE WELCOME TO CONTACT KAPOOR STUDY CIRCLE RIGHT NOW. WE ARE HERE TO MAKE YOU 12TH STANDARD PASSED STUDENT! THIS IS DONE BY GETTING DIRECT ADMISSION TO 12TH STANDARD THROUGH NIOS BOARD! YOU BECOME VICTORIOUS AND SUCCESSFUL IN COMPLETING YOUR SCHOOL FINAL EXAMINATION!
NIOS ADMISSION CLASS 12TH  GIVES YOU THAT SECOND CHANCE TO REAPPEAR FOR IMPENDING 12TH STANDARD EXAM – KAPOOR STUDY CIRCLE USES THIS OPPORTUNITY WISELY IN YOUR FAVOR!
NIOS Admission 12th CLASS:
National Institute Of Open Schooling (NIOS) Is A Board Under The HR Ministry Of Government Of India. They Conduct Annual Examinations For 12th Standard Students, All Over The Country To Award Senior Secondary Certificate To Students, Who Pass The Exams.
NIOS Has A Special Arrangement, Whereby Failed And School Drop Outs In Class 11th Or 12th Are Given A Second Opportunity, To Reappear In The Next Exam For 12th Standard. This Second Chance Is Not Available In Any Other Schools.
Kapoor Study Circle Cleverly Uses This Formidable Opportunity, To Get Failed And Dropout Students To Get Direct Admission To 12th Standard NIOS Courses And Makes Them Pass.
Contact Us Soon, Our Councilors Will Advise You Properly About Admission Formalities Documents Required, Subject Selection For Class 12th And Also How To Prepare Well For Examinations. We Have Been Doing This Service To Failed And Dropout Students From Schools And Makes Them Pass In 12th Standard, Ever Since This Educational Institution Was Started, Way Back In 1987.
Since Then Kapoor Study Circle Takes Justifiable Pride That Our Teaching Professionals Have Ignited Light Once Again, In The Doomed And Dark Life Of Failed And School Dropout Students, Numbering In Thousands.
As S You Approach Kapoor Study Circle, It Becomes Our Responsibility To See That You Get Benefited By NIOS Direct Admission For 12th Standard Facility; And Pass The Exam With High-Marks.
Best Result Oriented NIOS Coaching Classes FOR 12th In Delhi
After Getting The Admission Formalities Successfully Completed, The Major Work Of Sharpening Your Ability And Skill, To Face The 12th Standard Exam Confidently And Achieve Top-Marks, Begins. You Are Enrolled For Tuition In Special Coaching Classes, Conducted By Kapoor Study Circle At Their Study Centers In Delhi.
With Vast Experience, Kapoor Study Circle's Expert Teachers Prepare Every Student As Bright Student In The Coaching Classes. The Lessons Are Illustrated Clearly, Unambiguously And Without Any Doubt, By Using Study Material; Guides; Notes; Tips; Previous Question Papers And Answers Etc.
These Coaching Classes Are Conducted At Convenient Timings Of Morning, Evening And Week-Ends. You Have Full Freedom To Select Your Timings As Per Your Choice.
Transfer Of Credit (TOC) Facility:
Another Unique Opportunity Offered To NIOS Direct Admission Students For 12th Standard Is They Can Convert The High Marks, If They Have Secured In Their Previous Board Exam, (Maximum Two Subjects) To The Present Senior Secondary Certificate Now Awarded. They Need Not Appear For Exams In Subjects Already Passed.
Those Employed Anywhere Will Find NIOS Direct Admission Very Useful, To Study And Earn At The Same Time. They Can Attend Coaching Classes At Their Convenience, Study And Sharpen Their Skills.
PASSING 12TH STANDARD BECOMES EASY WITH KAPOOR STUDY CIRCLE'S EXCELLENT COACHING!
SUPPORTING DOCUMENTS REQUIRED FOR ADMISSION IN NIOS STREAM 1
FOR 12th
1.Attested Copy Of The Class 10th Pass Certificate From A Recognized Board/Secondary Examination Having A Record Of The Date Of Birth. (No Other Proof Of Age Will Be Accepted For Sr. Secondary  Admission).That Is Photo Copy Of Class 10th Mark Sheet And Passing Certificate
2. Proof Of Residence
Proof Of Residential Address Is Essential For All. Attach A Copy Of Any One Of The Follwing.
Adhar Card Of The Student, Ration Card, Voter I Card Of Patents Or Appointment Letter From The Employer On Letter Head, Or Water/Telephone/Electricity Bill/Statement Of Running Bank Account Or Income Tax Assessment Order/ Election Commission's Voter Identity Card, Parents Passport In Case Of Minor.
IMPORTANT DATES FOR ADMISSION IN NIOS STREAM-1
FOR MARCH/APRIL PUBLIC EXAM
Stream1 block 1
Last date
Examination schedule
ADMISSION OPEN
31st July (without late fees)

FROM 01st August TO 15th September (WITH LATE FEES)

Practical's in The Month March

And theory exam in The Month Of April Every Year
FOR SEPEMBER/OCTOBER PUBLIC EXAM 
Stream1 block II
Last date
Examination schedule
ADMISSION OPEN
31st January (without late fees)

FROM 01st February TO 15th March (WITH LATE FEES)

Practical's in The Month Of September

And theory exam in The Month Of October Every Year
FOR MORE INFORMATION:
Call: 9911111425, 9911111525.