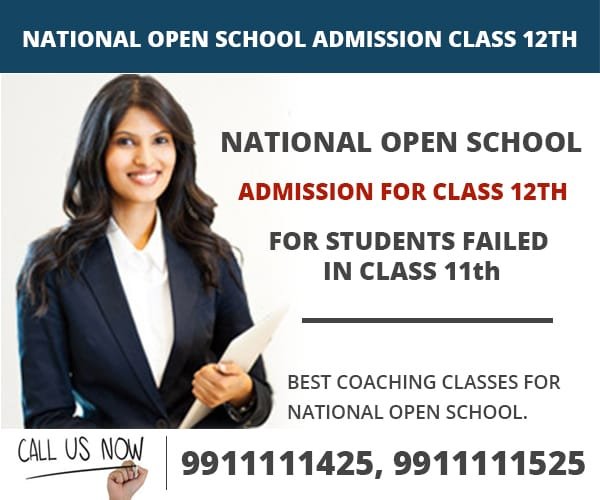 Welcome to Kapoor study circle for NATIONAL OPEN SCHOOL ADMISSION 12th class, the best and most Popular Institute in Delhi HELPING STUDENTS FAILED IN CLASS 11th FROM REGULAR SCHOOL and want to continue their studies for class 12th from NATIONAL OPEN SCHOOL. If you are a student or parent and your child has failed in class 11?
Well, failing a subject or two in class 11th in school exams does not mean that the student does not have a future. It just means that you have hit a small bump in the road, and it is not too late to stand up again and move forward. So do not worry if you cannot go back to your regular school yet, study with us in a much better environment.
NATIONAL OPEN SCHOOL ADMISSION FOR CLASS 12th HAVE STARTED FOR THE STUDENTS
PASSED IN CLASS 10TH AND WANT TO STUDY PRIVATELY FOR CLASS 12TH FROM NATIONAL OPEN SCHOOL.
10TH PASSED BUT FAILED IN CLASS 11TH FROM SCHOOL CAN ALSO APPLY FOR 12TH ADMISSION.
THE STUDENTS STUDING IN REGULAR SCHOOL IN CLASS 12th FACING A DIFFICULTY TO COP UP WITH THE SCHOOL TIME STUDY SCHEDULE.
National Open School Is the best for all school failed, or drop out students at KAPOOR STUDY CIRCLE because we provide an excellent learning environment to the children so they can understand what they could not in the regular class. With national open school admission class 12th your child does not have to waste a whole year repeating the class 11th.
Repeating the same level can discourage your child, even more, and you have no guarantee that this time they will pass the course. For more information about admission formalities, classes timings and documentations call us @9911111425,9911111525 or visit our study centers.
Now you must be thinking, why Kapoor Study Circle?:
That is a very valid question, and you should be asking this question. You are handing us the future of your child, so it is only fair that we convince you before asking for anything else.It is understandable that every student needs good grades to pass the examination of class 11th and 12th, and we cannot help students in achieving that if they are not willing to do so.
Kapoor study circle has proved themselves for more than 30 years by serving selflessly to provide a better and secure future for your child. With years of experience, our mentors and teachers work with devotion and noble intentions to provide a playful yet informative environment to students where they can study at their own pace with a choice to choose any number of subjects they want to appear in an examination.
Students can perform for two times for review in a single year making it less challenging for students to pass test and triumph in academics. Our belief is that every student can perform well in studies if he/she gets the right to follow his/her interests and provided with proper health care and motivation. He/She must be counseled to forget disappointments and provided a space to gather the enthusiasm to take all the challenges courageously. We know that every child is a gift and they must be supported in every way to lead his life.
For further queries and information regarding new admissions:
Call us at +91 9911111425/9911111525 or visit: www.kapoorstudycircle.com.