NIOS ON DEMAND EXAM STREAM 3 CLASS 10TH FAIL 2023-2024 - KAPOOR STUDY CIRCLE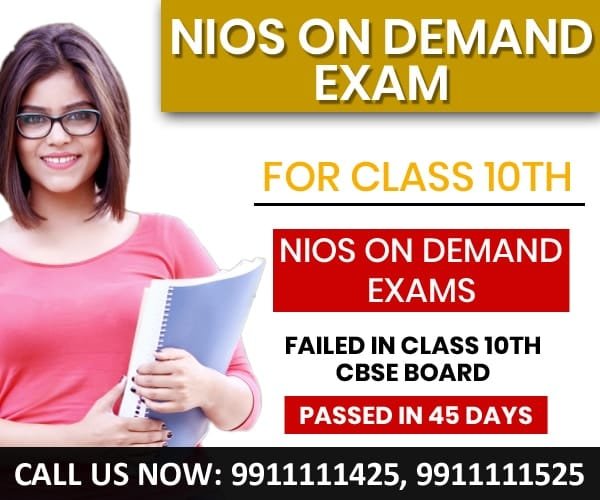 NIOS ON DEMAND EXAM STREAM 3 CLASS 10th fail 2023 fail is a chance to pass 10th board exam in the same year. It is possible under NIOS – National Institute of Open Schooling on demand exam. Generally if a student fails in board exams than according to rules he can appear again in board exams next year. Also he has to appear in all the subjects once again. But NIOS On Demand exam class 10th fail is an exception to this as a students now don't have to wait for one year to reappear. Also not in all subjects but only in fail subjects.
It is a golden chance 10th fail students from any recognized board in India to pass class 10th in 2023 same year. Now you can save your Precious year. Again if you enroll in NIOS ON DEMAND EXAM 2023, you can appear in board exam for class 10th throughout the year when you think that you are prepared well for the exam.
Eligibility for NIOS ON DEMAND EXAM For Class 10th 2023.
NIOS On Demand Exam is new concept started by National Institute of Open Schooling. It is started with an objective to help the students fail in class 10th or 12th board exams conducted by CBSE and all recognizes boards in India. Hence only students fail in Board exams of class 10th are eligible to apply for Nios on Demand Exam Stream 3 for 10th fail. Also If a student got Admit card For board exam but did not appear in exams are also eligible for on Demand exam Stream 3. Therefore it can be said that Nios on Demand exam is really a blessing for school board exam fail students.
Nios odes – on demand exam for 10th fail | Nios odes registration  10th | Nios on demand exam 10th in Delhi | NIOS ON DEMAND EXAM
How Kapoor Study Circle Helps these Students?
Working for last 25 year helping the fail students We Have Experienced Educationists, Who Conduct Coaching Classes for All the Subjects for Students Of 10th. We Conduct These classes Every Day, In Our coaching Centres During The Whole Year. You Can Enrol For your NIOS Admission on demand exam stream 3 with our help . Get The Guidance From Councillors, As Which Exam Or Exams You Want To Appear. Join Our Coaching Classes To Sharpen Your Skill; Clarify Your Doubts In The Fail Subjects And Confidently Face The Relevant Subject-Exam. You Will Get A Pass – No Doubt.
Scheme of credit Transfer Under NIOS ON DEMAND EXAM CLASS 10th:
Scheme of credit Transfer under NIOS ON DEMAND EXAM is a new perception of NIOS – National Institute of Open Schooling. Under this scheme if the student are pass in one or more subjects in Previous exam than they can apply for credit transfer in NIOS BOARD to a maximum of two subjects. Therefore now they have to appear only for three subjects in NIOS ON DEMAND EXAM. When they Pass these three subjects in which they decide to appear, they will get a certificate which includes the Pass subjects a complete class 10th pass certificate. Now they can either take admission in a school for class 11th or can also apply for direct admission in class 12th under  NIOS ADMISSION STREAM 1.
Important Documents Required For Admission In NIOS on demand exam class 10th.
Original 10th fail Mark Sheet If Passed In One Or Two Subjects/ Original Admit Card Of Previous Board Exam If Failed In All Subjects, 4 Colored Passport Size Photographs & Aadhar Card Of The Student, Guardian/Parents Address Proof(Photo Copy)
Nios on Demand Exam for 10th | On Demand Exam of Nios Board 2023 | Nios Odes 10th in Delhi |
NIOS SUBJECTS LIST FOR ON DEMAND EXAM CLASS 10th.
| Subject Codes | Subjects list |
| --- | --- |
| 201 | Hindi |
| 202 | English |
| 211 | Mathematics |
| 212 | Science and Technology |
| 213 | Social Science |
| 214 | Economics |
| 215 | Business Studies |
| 216 | Home Science |
| 225 | Painting |
| 229 | Data Entry Operations |
For more information Just Call: 9911111425, 9911111525