CBSE Patrachar Vidyalaya Admission 10th, 12th Form Delhi- Apply now for Class 10th Admission, class 12th Admission For CBSE Patrachar Vidyalaya Admission form GTB Nagar Outram lane.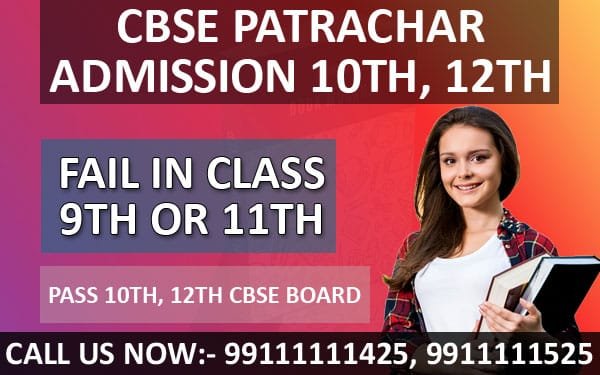 CBSE Patrachar Vidyalaya admission 10th, 12th Delhi have started for 2023-2024 session for school fail students in class 9th or 11th and school dropouts. If you want admission in class 10th or 12th in CBSE Patrachar Vidyalaya in Delhi contact us at our centers or call us : 9911111425, 9911111525 for more information about your admission process, formalities and classes before the last date .
Kapoor Study Circle is an educational Institution at Delhi. In liaison with Patrachar Vidyalaya Board of Education, it helps thousands of Delhi students. Students failed in lower Classes of 9th and 11th get CBSE Patrachar Admission 10th, 12th Form Delhi respectively. This rare opportunity made available to failed students is real Boon, to bring forth happiness in life. Let us see how CBSE Patrachar works.
CBSE Patrachar Vidyalaya Admission 10th, 12th Form in Delhi - Who Can Apply? Eligibility for Admission in Class 10th and 12th
Following category of students can take direct admission in CBSE Patrachar Admission 10th, 12th Form Delhi CBSE Board exams.
8th pass students with one year gap, 9th fail students from all regular schools, all school dropout students who are above the age of 14 years without any formal qualifications can apply for admission in 10th class from CBSE PATRACHAR.
10th pass students with one year gap or 11th fail students from any school in Delhi can apply for admission in 12th class from CBSE PATRACHAR.
CBSE Patrachar vidyalaya Admission 10th, 12th Form in Delhi - The plight of fail students:
CBSE Patrachar Vidyalaya Admission 10th, 12th Form Delhi – Students joining High School studies have different dreams. After passing 10th Class – Secondary School Leaving Certificate – and 12th Class – Senior Secondary School Certificate – there are many avenues open for them, to build their future career.
Students passing 10th Class can get the S.S.L. Certificate. It is their option to join 11th Class in the same school, or any other school. If they want to pass 12th Class and go further for collegiate education, they can do so. Or else they can learn some technical qualifications and skills with this Certificate, or go straight in search of a job.
Students passing 12th Class and obtaining Certificate stand more options. They can further their studies for graduation; diversify towards some Technical Education like Computer Technician; Medical and Para-Medical Assistants and so on. However, for admission for graduation courses, passing 12th Class is a must.
Under these circumstances, failing in lower classes such as 9th Class or 11th Class will end all of their dreams sadly. They cannot study 10th Class or 12th Class, as the case may be. They have to leave school abruptly with a Fail Certificate. No school will allow them to complete School Final Courses.
At this juncture, Kapoor Study Circle lends a helping hand to these dejected students, through CBSE Patrachar Admission to join 10th Class and 12th Class trains them in their subjects and makes them Pass the Course, with high marks.
Know more about CBSE Patrachar 1vidyalaya Admission 10th, 12th Form in Delhi:
CBSE Patrachar Vidyalaya Admission 10th, 12th Form Delhi – According to the notifications of the Ministry of Education, Government of India, the Union Government of Delhi has evolved a separate Education Board. This is called CBSE Patrachar. This is applicable within the jurisdiction of Delhi only.
To bring failed students and school-dropouts into the ring of School Final Education, CBSE Patrachar has a liberal scheme FOR Admission. The failed students in 9th Class and also 8th passed students after one year can get Direct Admission, for CBSE Patrachar 10th Class as Private Students. They need not join any Regular School.
Similarly, those failed in 11th Class and Passed 10th Class one year before can get Direct Online Admission in 12th Class. The CBSE Patrachar Admission guidance is available for anyone interested in applying. But only Delhi-based students can join in both Classes.
Kapoor Study Circle helps for CBSE Patrachar Vidyalaya Admission Class 10th, Class 12th & Coaching Classes in Delhi:
CBSE Patrachar Admission 10th, 12th Form Delhi – Right from the inception in 1987, Kapoor Study Circle is operating with the primary objective of helping failed High-School students, to complete School Final Courses. This way they have wiped off the tears of thousands of students.  Hence These passed students profusely thank Kapoor Study Circle.
CBSE Patrachar Admission is one among the many schemes offered by Kapoor Study Circle. Therefore the Delhi-based students, if they approach Kapoor Study Circle to make them pass School Final Courses, they can get comprehensive and conclusive help.
CBSE Patrachar Admission  Guidance.
The councillors fill-up CBSE Patrachar Vidyalaya Admission ; check and attach necessary documentary proof; submit and obtain Admit Card and Hall Ticket for the concerned student, to appear in the appropriate Public Exam.
In addition to the above, failed students get the significant help of preparing them for the ensuing exam also from Kapoor Study Circle. They are –
Enrolling the student in the Special Coaching Classes conducted at their Study Centres in Delhi.
Inquiring the preference of the student for Class-timings –morning, evening and also weekends.  Also This is very convenient for employed persons to earn and study at the same time.
CBSE Patrachar coaching Classes for 10th 12th.
Expert Teachers in KAPOOR STUDY CIRCLE provides CBSE Syllabus impart intensive tuition, in illustrating every subject very clearly.
Also High-tech accessories and tools like Video and Slides are used in the Classroom to explain the lessons.
Individual attention to watch the progress of each student because every student need it.
Well-prepared study materials; tips; guides; notes etc. are provided, along with previous question papers and answers. As a result the students are aware of what to write in exam.
The student must write Mock-tests often. As a result they get the skill of how to answer Exam questions for securing high-marks.
Thus the preparations of Kapoor Study Circle through Special Coaching make every failed student into a Bright Student. They find it very easy to Pass 10th Class and 12th Class through CBSE PATRACHAR ADMISSION. They feel delighted that they are now in a position to fulfil their dreams of their career. Is it not a Boon?
You can also help failed students, if you are a neighbour, friend or relative of such students, by informing them to contact Kapoor Study Circle online!