OPEN SCHOOL ADMISSION CLASS 10TH - EXCELLENT CHANCE TO COMPLETE SCHOOL EDUCATION
Welcome for Your OPEN SCHOOL ADMISSION CLASS 10th. all the regular school students fail in class 9th  or dropout students can apply for class 10th CLASS OPEN SCHOOL ADMISSION by filling the OPEN SCHOOL ADMISSION FORM CLASS 10th for registration. KAPOOR STUDY CIRCLE is an educational organization working in the field of education since 1987 with the main objective to help and guide, the school failed and dropout students of the society ,to complete their school education for class 10th and 12th.
If you are a student belonging to the following category:
Fail in class 9th from a regular school.
Passed 8th class with one year gap and now want to complete the school education for class 10th.
A school dropout and has attained the age of 14 years  on 31st march this year want to appear in in class 10th board exams from OPEN SCHOOL.
Here is an excellent chance for you to get direct admission in class 10th from OPEN SCHOOL and Pass 10th class with good percentage. We at kapoor study circle are ready to help and guide you for your Open School Admission class 10th.
JUST CALL US AT: 9911111425, 9911111525 OR FILL OUR ONLINE ADMISSION FORM BY CLICKING THE LINK GIVEN BELOW AND OUR COUNCILLORS SHALL GET IN TOUCH WITH YOU FOR YOUR ADMISSION.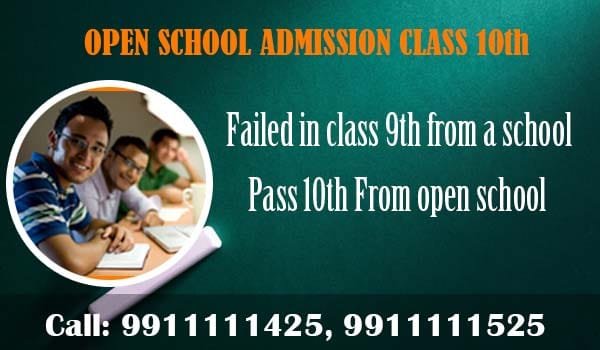 Open School Admission class 10th | 10th Class Admission Open School | 10th From Open School | Open School 10th Admission | Delhi | 2018-19
OPEN SCHOOL ADMISSION CLASS 10th

The National Institute of Open Schooling (NIOS) is an autonomous authority, for conducting Public Examinations in Secondary (10th Standard) and Senior Secondary (12th Standard) courses. This Board is controlled by HR Ministry of Government of India and associated with Ministry of Education. The OPEN SCHOOL BOARD provides another opportunity to the Students who have failed in earlier classes of 8th or 9th Standard and the school drop outs of getting admitted to Open School Admission class 10th and appear for board exams conducted by the OPEN SCHOOL.
How can you get helped by  Kapoor Study Circle for Open School Admission class 10th ?
Kapoor Study Circle have been assisting aspiring learners for their admission in  OPEN SCHOOL and coaching classes for Secondary and Senior Secondary School examination, through National Institute of Open School Admission.  we render all the help and guidance to students  from OPEN SCHOOL ADMISSION FORM filling,  coaching classes, helping students for preparation of TMA (Tutor Marks Assignments), examination time table , date sheet etc.
You get all the guidance from our expert teaching professionals, regarding your subject selection, coaching classes, syllabus of OPEN SCHOOL , how to get the study material, coaching in all the subjects as per OPEN SCHOOL subjects lists etc. our coaching classes are conducted at our Study Centers in Delhi, adhering differ batch timings for 10th Standard and 12th Standard students, both boys and girls according to the requirements of the students.
Modern facilities for education:
Kapoor Study Circle's educational experts are experienced in coaching hundreds of students like you. So they are well-versed in understanding your frustrated mind-set and fear about the particular subjects where you got fail-marks.
As such, we take individual care in training every student well in those subjects. For this, they use modern facilities for explaining the subjects; use illustrated study-guides and notes prepared especially for each subject in 10th Standard and 12th Standard; students are made familiar with the previous question papers and are motivated to answer them.
This helps in preparing you to face the impending exam in any subject, with confidence and courage. Eventually, you get very good marks this time and pass with pleasure.
Career opportunities for OPEN SCHOOL Certificate holders:
The 10th Standard and 12th Standard Certificates issued by OPEN SCHOOL Board are exactly equivalent to that of the Central Board of Secondary Education (CBSE). These are instantly recognized in all the States of India. After passing class 10th from OPEN SCHOOL BOARD, a student can take admission in class 11th in any regular school of any board in India and after passing class 12th the students can take admission in any College for engineering, law, medical college and University in any State, for graduation in any faculty – academic, commercial and specialized courses in India and abroad. Certificate holders of 10th Standard can pursue their higher studies in any school in India; or even seek employment, if they so desire.
Get Your Future Brightened By passing from OPEN SCHOOL BOARD – Get Them Through Us!
10th admission in open school | Open school coaching classes 10th | open school 10th admission in Delhi
SUPPORTING DOCUMENTS REQUIRED FOR ADMISSION IN OPEN SCHOOL
For Class 10th:
Minimum Age:14 Years As On 31st July For March/April  Public Exam And  14 Years As On 31st January For September/October Exams.
Attested Copy Of Birth Certificate Issued By The Municipal Authority Or District Office Of The Registrar Of Birth And Deaths For Those Born On Or After 26.01.1989.Name Of The Child, Father And Mother's Should Be Clearly Written On The Computerized Certificate.
Transfer Certificate/School Leaving Certificate Showing Applicant's Date Of Birth, Issued By The Last School Attended By The Applicant. In Case Of Govt. Schools, The Transfer Certificate/School Leaving Certificate Should Be Signed By The Principal While In The Case Of Private Schools, It Should Also Be Countersigned By The Competent Education Authority Of State/Or District Education Officer.
Proof Of Residence
Proof Of Residential Address Is Essential For All. Attach A Copy Of Any One Of The following:
 Aadhaar Card Of The Student, Ration Card, Voter I Card Of Patents  Or Appointment Letter From The Employer On letter-head, Or Water/Telephone/Electricity Bill/Statement Of Running Bank Account Or Income Tax Assessment Order/ Election Commission's Voter Identity Card, Parent's Passport In Case Of Minor.
IMPORTANT DATES FOR ADMISSION IN OPEN SCHOOL
FOR MARCH/APRIL PUBLIC EXAM
Stream1 block 1
Last date
Examination schedule
Admission Open
31st July (without late fees)

FROM 01st August TO 15th September (WITH LATE FEES)

Practical's in the Month of March

And theory exam in the month of April every year
FOR SEPEMBER/OCTOBER PUBLIC EXAM 
Stream1 block 2
Last date
Examination schedule
ADMISSION OPEN
31st January (without late fees)

FROM 01st February TO 15th March (WITH LATE FEES)

Practical's in the Month Of September

And theory exam in the Month Of October Every Year
FOR MORE INFORMATION:
Call: 9911111425, 9911111525.