What is PATRACHAR VIDYALAYA?
What is Patrachar Vidyalaya or Patrachar mode of study; it is general question that comes into the mind of every student searching to appear direct CBSE board exam to pass 10th, 12th class in Distance mode. PATRACHAR or PATRACHAR VIDYALAYA is like any another school which follows a CBSE curriculum but in distance mode or correspondence mode. Also Here the students have not to attend the regular full time school. If you enroll in Patrachar for 10th or 12th class but this school provides you option for the flexibility in classes and its timing. You can go for the weekend classes or the regular one; the choice is yours.
Patrachar Vidyalaya In Delhi Admission Eligibility For Class 10th, 12th 2024-2025

Patrachar vidyalaya is a Delhi government organization authorized by the CBSE BOARD to fill up the form for your CBSE board exams be it the matriculation class 10th or Intermediate class 12th. The opportunity which you lose after not clearing your 9th and 11th exam papers can be well addressed. Hence Without wasting your precious time to miss you can apply for class 10th or class 12th. As Patrachar Vidyalaya School is a CBSE affiliated school with an objective to help those students who could not manage to pass the respective exams, and as a result, they tend to be a drop out from their school. For Patrachar Vidyalaya admission guidance and Classes for Patrachar Students, complete information about formalities, submission of Patrachar exam fees, Patrachar PCP classes and finally the Patrachar Vidyalaya admit card for CBSE BOARD final exams every thing is available here.
Therefore now Give wings to your dreams by availing this one last chance for appearing in the board exam. The class for CBSE Patrachar students is accustomed as per variety of ways, and the school is situated at Delhi only. Patrachar vidyalaya courses in Hindi and English medium as per the student's convenience in the language and they can get themselves enrolled accordingly. We have special classes only for girls who have subsidized fees for them. Various personality development classes and computer education classes are too available.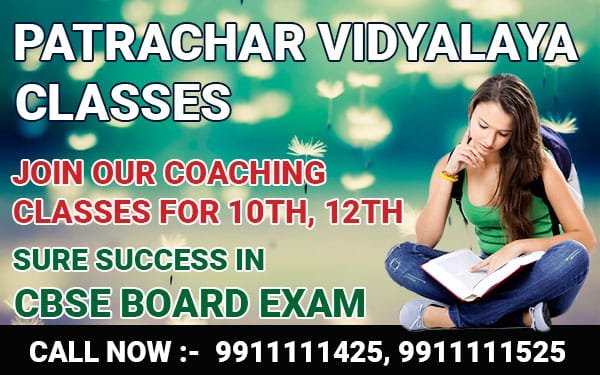 Kapoor Study Circle's Help and Guidance to Students for Patrachar Vidyalaya.
Kapoor study circle is an institute in Delhi guiding and helping students for admission in Patrachar vidyalaya 10th and 12th class. We conduct regular several such activities which are predominant in any regular school like parents meeting, daily attendance, half yearly exams, etc. Also the focused and personalized attention to our every student makes us stand different from any other school.  As a result our students get good marks in board exams. The number of students in our class is not huge like that of any big private school.
Kapoor Study Circle's core function lies in assisting students in problem due to their marks or could not qualify school  exams. Contact us and tell your situation to us, we are there for you. We have various alternatives to deal with all kinds of such scenarios. Kapoor study circle is an institution which caters to your wants in numerous ways:
We have the expert teachers who follow the exam focused style of teaching.
Helps you in filling the form for your board exams by whichever stream you belong.
Gives you a choice to prefer for your batch timing and classes.
Regular doubt sessions keeping in mind the desirability of students.
Easy Teaching methodology for week students.
Series of mock tests, previous year questions from time to time.