Cbse open board Patrachar Admission form 10th / 12th 2023-2024
Cbse open board Patrachar admission form last date – Cbse Open Board Patrachar Vidyalaya Admission Forms In Delhi Are Going To Start Very Soon. Contact Us Soon Before The Last Date If You Are Looking For Your Admission In Class 10th. You Can Take Direct Admission In Class 10th or 12th As A CBSE Patrachar Open Board Student.
FOR MORE INFORMATION CALL US : 9911111425, 9911111525 OR VISIT OUR CENTERS FOR OTHER FORMALITIES AND INFORMATION BEFORE CBSE OPEN BOARD PATRACHAR ADMISSION FORM LAST DATE.
Kapoor Study Circle Patrachar Open school is the trusted and the most dedicated institute towards making the admission procedure simpler for the students, as they are willing to help you enroll in the class virtually. This means that you can easily ace the 10th examinations.
If your answer to each of the questions given below is yes then you are at the right spot for assistance:
Were you unable to clear the 9th standard in regular school?
Did you clear the 8th standard a year ago?
Dropped out of school due to any reason?
If you nodded your head in yes then it's time for you to commence your academic journey with Kapoor Study Circle without any delay. They assist you in getting admitted online, pass the examinations and get a valid certificate which will ease your academic life.
CBSE OPEN BOARD PATRACHAR ADMISSION FORM 2018 LAST DATE FOR CLASS 10th & 12th.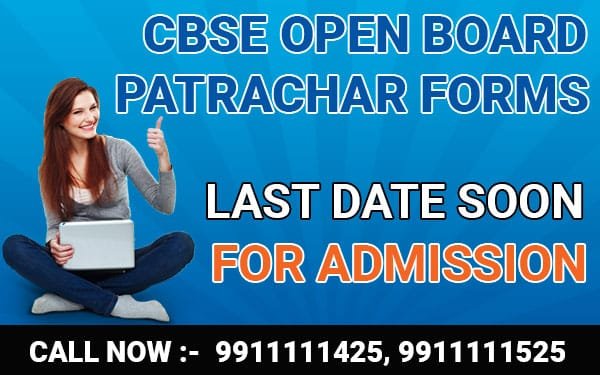 The Central Board of Secondary Education is internationally recognized for their association with 141 schools across 20+ countries. So, the students who could not pass their 10th or 12th standard board examinations, which has made it tough for them to continue their studies, can discard their worries to the wind. They can get direct admission in 10th class. Patrachar Vidyalaya is a renowned CBSE correspondence or open board school in Delhi.
WHY GO FOR CBSE OPEN BOARD PATRACHAR ADMISSION CLASS 10th, 12th ?
There is no doubt that the CBSE syllabus is good, it is valued everywhere in India. Patrachar Vidyalaya has the right and complete authority to issue the pass certificate for Secondary as well as Senior Secondary courses. This will assist you in getting admission in college or be eligible for job opportunities all over the country.
Students who have approached Kapoor Study Circle for completing the task of enrolling in the 10th class have proved to be successful in all their endeavors.
WHY OPT FOR KAPOOR STUDY CIRCLE AS YOUR ACADEMIC SPONSOR IN A WAY?
Kapoor Study Circle provides multiple opportunities under a single roof, for instance:

They assist students in getting direct admission in Patrachar Vidyalaya.
They provide outstanding, clear, informative and concise study materials and notes to the students for CBSE Classes so that studying feels like fun not a burden.
The experienced teachers employed by the Kapoor Study Circle provide the students a clear insight into the needs, requirements, and expectations of the open board examination.
They set a date for parent and teacher interaction for the betterment of the performance of the students.
For intricate inquiry, give a ring at 9911111525 or 9911111424 or directly pay a visit to the center.
Fill out the admission form 2023-2024 before the last date. in Delhi so that you do not lose the chance to excel!