9th fail, 11th fail Admission Patrachar Vidyalaya CBSE 2024-2025
9th 11th fail Patrachar vidyalaya CBSE – The System is called "CBSE Private Examinations" (CBSE Patrachar Scheme) where Students, who unfortunately could not Pass in their 9th Class and 11th Class Exams earlier, can make use.
9th fail or 11th fail can take admission in class 10th or 12th and may appear for 10th Class and 12th Class CBSE Exams, studying through CBSE Patrachar Vidyalaya admission.
CBSE Patrachar Scheme is really very helpful for such of those Students, who got vexed because of their failure in Studies. They feel gloomy whether their School Life has ended once and for all. This CBSE PATRACHAR Program gives them new hopes and opens up avenues, for a bright future by studying through Distant Learning. They need not attend Regular Schools and can even work anywhere and study Part Time.
Kapoor Study Circle in Delhi for 9th, 11th fail Students
In Delhi, KAPOOR STUDY CIRCLE is the oldest trusted and most popular coaching center among the students helping these fail & dropout Students can take help for getting CBSE Patrachar Admissions, at every stage from Admission to Final Examination. Here is how the Students can get help:
KAPOOR STUDY CIRCLE helps and guides students about the formalities; important documents required for getting CBSE Patrachar Admission and finish all the formalities perfectly.
Provide proper guidance to the Students with regard to the Courses they are eligible, selection of Subjects, and advice as how to face the Exam confidently.
Special Coaching Classes are conducted by expert Teachers at convenient timings for Students to choose.
The School Atmosphere is created here, with the exception of getting individual attention, they can never get in regular Schools.
At the time of Examinations, every Student is prepared with special care, helped in getting appropriate information of Exam Centers, Time Schedules, payment of necessary fees, receiving Hall Tickets and such other help.
Once the Students Pass the Exams, they are still helped in getting the Secondary and Senior Secondary School Certificates, from CBSE Patrachar. These Certificates are very essential for the Students to further their careers towards prosperity.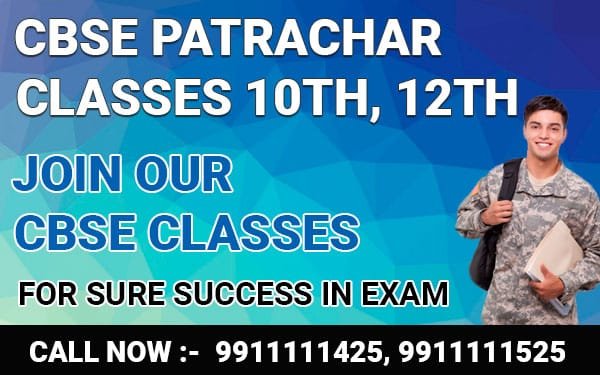 Thus CBSE Patrachar Vidyalaya Scheme is a unique blessing, for failed Students in lower Classes and those School dropouts, to pursue their Studies once again and obtain valuable Certificates for a happy life!