BBA LLB Admission 2023-2024 for Bachelor of Businnes Admistration and Bachelor of Legislative Law Course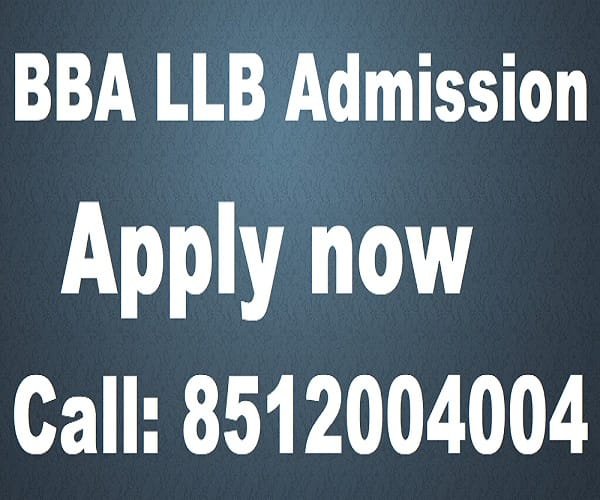 BBA LLB Admission 2023-2024: Admissions for the Bachelor of Business administration Course with a bachelor of legislative law degree five-year Course are going on. Students who want to join the BBA LLB Course Admission can Contact us for all the information about BBA LLB Course eligibility, BBA LLB Course Admission last date, BBA LLB Course fees, BBA LLB Subjects, and more.
Becoming a Lawyer and winning Court cases is the dream career of many. If they try, there is no bar for anybody to fulfill this dream. The scope for becoming a Lawyer exists if the Candidate studies the Law Course. You must understand that there are many ways of studying Law.
In the olden days, if anybody wanted to become a Lawyer, he must first get admitted to a College to study any Academic Graduation Course. Primarily Students studied Bachelor of Arts. This course will take three years to complete and obtain the Bachelor of Arts Degree. Then if they want to study Law, they must join a Law College. The Course of Bachelor of Law will take another three years to complete. After passing the Bachelor of Law Course, they will get a Degree in Bachelor of Law. They can commence practicing as a Lawyer, with the signboard BA LLB Advocate.
This long-drawn process took six years to complete. They will have to join as a Junior with any Senior Lawyer to get practical experience. Then only they can commence their life as a Lawyer. In the present-day University Graduation System, these fields offer wider choices for young aspirants. They can study the foundation of Graduation and learn the Law Course side by side. This way, Students can save precious year period and can become Lawyer. 
Another development is that various Business fields have sprung up due to technological advancements. Instead of acquiring mere Academic Knowledge, the Students are also expected to have multiple Technical Knowledge. 
After acquiring this Technical Knowledge and Skills, if they study the Law Course, it will be more beneficial for them. For example, there is a new Technical Course for Graduation from Colleges. It is called Bachelor of Business Administration.
In this Courcoursee, students become Business Management Experts when completing the Courcoursel. With this foundation, if they study Law Course also, they will be in great demand for being Business Lawyers or Legal Consultants.
To obtain this Degree, the Student need not study for Graduation first. It is enough if he Passes Senior Secondary Course at High School and joins this Integrated Course. In this Courcoursee, Students are trained in Technical Knowledge of Business Administration and various Laws – simultaneously.
The required Courcoursebe studied is BBA LLB.
What is BBA LLB Full Form?
The expansion of the above abbreviation is Bachelor of Business Administration with Bachelor of Legislative Law. Even though stipulated as an Undergraduate Course, it gives Double Degrees to Students. 
The Student gets Technical Skills in Business Administration and also Legal Expertise.
Course Details of BBA LLB:
It is an Integrated Programme of Study. The Course duration is five years. The period is divided into 10 Semesters, each Semester of 6 months.
The Student has to write Semester Exams at the end of the Semester. Supposing he has arrears and backlogs, he can write it in the next Semester and Pass.
The Final Exam will be conducted at the end of the 10th Semester. After Passing the Final Exam, the Student will be awarded the Degree of BBA.LLB.
Eligibility for the BBA LLB Course Admission 2023-2024:
The Eligibility Criteria for BBA LLB Admission 2023-2024 differ from University to University. However, the following criteria are applied uniformly in major Law Colleges and Universities:
ü The Candidate should have Passed the Senior Secondary 10 + 2 Examination from any Recognized Board High School.
ü Candidates must have Passed the Subjects of Science, Commerce, or Humanity
ü They should have obtained Marks of 45% or above
ü Concession of 5% in Marks is allowed for Students from SC/ST Category.
ü There is no age limit stipulated for studying these Courcoursentrance Examinations:
For BBA LLB Admission, most Universities want the Candidate to Pass the following Entrance Examination namely –
CLAT – (Common Law Admission Test) – This test is conducted by the Association of National Law Universities all over India.
LSAT (Law School Admission Test) – conducted by the Law Schools Association Council.
AILET – (All India Law Entrance Test) This Test is conducted by National Law University, Delhi.
SLAT (Symbiosis Law Admission Test.) This test is conducted by Symbiosis International for students' Admission to Law Courses in its various Branches located in Noida, Hyderabad, Pune, and Nagpur.
After Passing the Entrance Exam, the Universities will prepare a Merit List. Students will be allotted seats based on the Marks obtained in the Entrance Exam.
The Subjects of Study in BBA LLB – Semester-wise:
The Syllabus may vary from University to University. Yet the following Subjects will be standard for all Universities. The purpose is to train the Student with the Technical Skills of Business Management and different kinds of Laws.
The Student gets various Skills in the relevant Subjects taught by every Semester. They can also augment their skills with Practical Knowledge and theories.
BBA LLB Semester I Subjects list
  Legal English and Communication Skills
  Legal Method
  Law of Contract – I
  Principles of Management
  Managerial Economics
BBA LLB Semester -2 Subjects list 
   Law of Contract – II
   Law of Torts and Consumer Protection
   Financial Management
   Organizational Behaviour
    Marketing Management
BBA LLB Semester – 3 Subjects list
    Family Law – I
    Constitutional Law – I
    Law of Crimes – I
    Business Environment and Ethical Practices
    Human Resource Management
BBA LLB Semester – 4 Subjects list
  Family Law – II
   Constitutional Law – II
   Law of Crimes – II
   Administrative Law
    Strategic Management  
BBA LLB Semester – 5 Subjects list
Environmental Studies and Environmental Laws
Law of Evidence
Corporate Law
Code of Civil Procedure
Alternative Dispute Resolution
BBA LLB Semester – 6 Subject list
Jurisprudence
International Law
Property Law
Investment and Competition Law
Code of Criminal Procedure
BBA LLB Semester – 7 Subject list
 Labour Law
Tax Law
Law and Emerging Technologies
Human Rights
Telecommunication Law
Criminology
BBA LLB Semester – 8Subject list
   Intellectual Property Rights
   Labour Law II
   Interpretation of Statues
   International Trade Law
   Indirect Taxes
    Election Law
 BBA LLB Semester – 9 Subject list
    Legal Ethics
    Court Crafts
    Drafting Pleading and Conveyancing
    Land and Real Estate Laws
     International Humanitarian Law
BBA LLB Semester 10 Subject list
   Socio-Economic Offences
   International Economic Law
   Forensic Sciences
   Law, Poverty, and Development
   Internship
Teaching Methodology and Techniques for BBA LLB:
The BBA LLB students are to learn the Core Subjects of Business Management and Law Subjects. Therefore, the Subjects should be used in practice by them.
With this in view, the Teaching Methodology is designed as follows generally –
Group Projects
Lecture-based
Research-based
Workshops
Internships
Experimental Learning
Case-study based
Industrial Training 
Labs.
To get exposure to Practical Life and implement the Skills learned, the Students can opt for different kinds of Internship namely –
Research Internship
Law Firm Internship
Corporate Internship
Working under an Independent Lawyer
Subject-matter specific Internship
At the end of the course's training, the Student should submit a Project Report detailing what the Student has learned therein.
Scope for BBA LLB Graduates:
Graduates with the Degree of BBA LLB Admission 2023-2024 have the most comprehensive choices for career options. They can use their skills learned to help individuals and Corporate Companies.
Since every Business Leads a Navigator to drive it to Progress, they can become Business Administrators.
Corporate Companies get entangled with Legal Matters often. So, these Graduates can become Corporate Lawyers. They can assist the Advocates in Courts about Civil and Criminal Cases relating to the Companies they work for.
Independent Litigation Lawyer: Businesses seek the help of a Litigation Lawyer in case they have some Litigation. The Lawyer can present his arguments in Court on behalf of his Clients. In the case of Out of Court Settlement between the Parties, he can settle the issues amicably. In all these cases, the Lawyer will keep the Client's interest uppermost in his mind. He can prepare Settlements and agreements, and other Legal Documents.
Legal Advisor: In the case of Foreign Companies, they also have business transactions in other countries. In such cases, they will need the assistance of a Legal Advisor in India. This person will be the Official Representative of the Company or Business concerned. He will take care of the Business transactions, as well as their Legalities concerned. Foreign Companies will not hesitate to pay their Legal Advisor heftily.
Finance Manager: Private and Government Companies need a BBA LLB Lawyer to handle their finance. These Graduates already study the relevant subjects of Economics and Management. Therefore, they can ably perform their duties and safeguard the Finances of the Companies concerned well.
BBALLB Courses are offered by almost all the Universities and Law Colleges in India. 
This Courcourse be studied through Distance Education, also offered by famous Online Universities.
HELP FROM STUDY CENTRES for BBA LLB Admission:
The BBA LLB Admission Process is carried out Online only. It would help if you had proper guidance from experienced Professionals to get LLB Admission to this Courcourseor securing B.A. LLB Admission, Students can approach Study Centres in Delhi. These Study Centres have already helped thousands of Students get Admission to BBA LLB Courses.
Apart from Admission, these Professionals can extend help and assistance in every way possible in your getting the BBA LLB Graduation Degree.